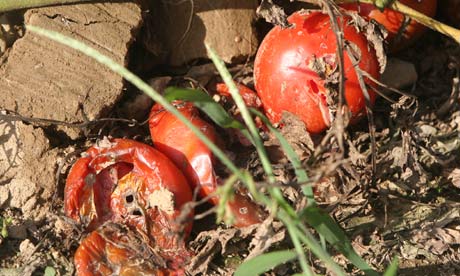 Tomato's rotting on the vine. No one to pick them. Where have all the farm workers gone?
Every act from now until the end of the term should be a middle finger."     
   We are all in this together.
"Single-issue protests must be tied to broader concerns, or they will succumb to Trump's uncanny ability to divide and conquer." 
We must continue to build multi-issue intersectional movements, stand up as we have for all targets of the regime in DC and kept it up wear them down and push them out. What a joyful event the Women's march was in January, how wonderful to see all sorts of people out at the airports saying no to Trump's executive orders. We get the connections all across amerikkka and must not let anyone co-op the movement for their own gains. Some will try this we know, some will try to get us into the voting booth to vote from another evil, they will try to scare us, and try to make us think that they the other evil have loving arms to hold us, caress us and care for us. Now over the years where have we heard that before? Over the years where did it get us? Unless we are willing to change the system, nothing will change. A person that we think is nice will come in and sign EO's and change this and that and then the next one will come in and change this and that. Left, right, left, right over and over. Oh, there goes the court, oh there goes our rights. What a fucking mess. Yes we have to use the word FUCK YOU more.

"The important thing is saying NO each in our own way."
Almost Everything We Do Now Is Resistance.
***even dancing****
and on January 19th
Roughly 200 people rallied for the "Queer Dance Party at Mike Pence's House" against Pence's history with legislation or opinions that have opposed LGBTQ rights in the Chevy Chase neighborhood where he has been renting a home. "get ready to WERK it and tell Daddy Pence: homo/transphobia is not tolerated in our country!"
We want to send a strong message to Pence that we're a united queer community," Firas Nasr, an organizer, told the Washington Post. "We've always stood united. There's always space to dance.
How Much Of Amerikkka's  Beating Stick Will We Swallow?
As long as the bombs are not dropping on us okay. As long as a democrat president is dropping them okay. As long as we are killing terrorists all right, too bad for the kids in the way. As long as the man we like is doing the deporting its all right?  But man let the other party the pigs of the republicans do it an the liberals cry bloody murder. Nope we don't agree. Either you are for their capitalist slaughter fest or you are against it. Either you believe that no human is illegal or you do not. For eight years liberals were silent afraid to go up against president Obama. Well not us. 2.5 million people were deported and where were the voices crying out against it? Some yes and thank you all of you for that.
and the mainstream Lesbians and Gays cheered and chanted OBAMA, Jennicet Gutierrez was removed for speaking out.
Not One More Deportation! ( 1 )
An important part of our discussion must be our trans sisters and brothers held in detention centers.

Before you booed Ms Gutierrez, are you going to join us now? Are you going to stand and Say NOT ONE MORE DEPORTATION?! Will you stand with our sisters and brothers who are Muslim? Who are the farm workers? Who sit at the machine dreaming of a better day? Who will pick your fruit and vegetables?
Out of the closets, out of the shadows: LGBT Leadership in the struggle against deportation
Where have all the peacenicks gone?
Funny we don't hear much about peace anymore. Wars are still being conducted in our names around the world. We received this e-mail from the group World Beyond War and we have to agree. None of this would be worth a damn if we blow all of it away. That red button at the tip of an insane leaders finger is just a bit too much to think about. Let's remember that around the world people are at the end of Amerikkk's beating stick being bombed out of their homes being murdered by the present regime. We can not allow this issue to take a back seat. Recently at least 10 Yemeni women and children have been killed in the first US military operation in the country authorised by President Donald Trump, medics and local media have said and then we have this:U.S. military officials told Reuters that Trump approved his first covert counterterrorism operation without sufficient intelligence, ground support, or adequate backup preparations. As a result, three officials said, the attacking SEAL team found itself dropping onto a reinforced Al Qaeda base defended by landmines, snipers, and a larger than expected contingent of heavily armed Islamist extremists. Commenting on the death of  8 year old Nawr al Awlaki: She was hit with a bullet in her neck and suffered for two hours. Why kill children? This is the new administration. It's very sad, a big crime," her grandfather Nasser al-Awlaki told Reuters
Where are the protest signs? Why isn't there thousands in the streets like there are when this regime strikes out against  immigrants, the LGBTQ community, Muslims, women and others? Can some say we are a selfish lot? The strike in Yemen doesn't really affect us? Well baby get this right. Your tax dollars are going to kill people plain and simple. You might as well be up there in that drone, or landing on the beaches somewhere. You might as well if you don't stand up and fight this along with all of the other issues that are directly affecting you go sit on President Trumps lap and push the red button. We are going to say this because it is on the tip of our tongue. If your sons and daughters, your sisters and brothers and the boy down the street are suddenly drafted, sent off to war I bet you would come out into the streets in record numbers. How sad and its too bad that only when it affects us then we  act. ACT NOW!!
A Plea to the organizers of the Climate March!
Will You Stand For Peace? A Plea to the organizers of the People's Climate March.
The website at PeoplesClimate.org proposes a march on Washington on April 29, 2017, to "unite all our movements" for "communities," "climate," "safety," "health," "the rights of people of color, workers, indigenous people, immigrants, women, LGBTQIA, young people, and more," "jobs and livelihoods," "civil rights and liberties," "everything and everyone we love," "families," "air," "water," "land," "clean energy jobs and climate justice," to "reduce greenhouse gas and toxic pollution," for "a transition to an equitable and sustainable New Energy and Economic Future," "that every job pays a wage of at least $15 an hour, protects workers, and provides a good standard of living, pathways out of poverty, and a right to organize," "massive investments in infrastructure systems from water, transportation, and solid waste to the electrical grid and safe, green building and increasing energy efficiency that will also create millions of jobs in the public and private sector," . . . BUT NOT FOR PEACE.
We wish to make you aware that approximately half of federal discretionary spending is going into wars and war preparation, and that this institution constitutes our single biggest destroyer of the environment. More on that here.
Will you please add "peace" to the list of things you are marching for?
If you will, it will become a list of things that WE are marching for, as we will join you.
Sounds good to us. We must put PEACE back on the agenda. Again as we say there are many folks who are at the end of amerikkka's beating stick, war machine and many more will be joining them.
Notes
( 1 )  Jennicet Gutiérrez  interrupted the President during the White House pride celebration shouting "President Obama, release all LGBTQ immigrants from detention and stop all deportations." As a transgender woman who is undocumented,  Gutiérrez said she could not celebrate while some 75 transgender detainees were still being exposed to assault and abuse in ICE custody at this very moment.
"The White House gets to make the decision whether it keeps us safe, "explains Gutiérrez  "There is no pride in how LGBTQ and transgender immigrants are treated in this country. If the President wants to celebrate with us, he should release the LGBTQ immigrants locked up in detention centers immediately."
Gutiérrez came to the US from Mexico, seeking safety and economic opportunity.  Gutiérrez has become one of many voices advocating for LGBTQ immigrants: upon arrival, she found community among other transgender immigrants, many of whom had been detained in ICE custody. Gutiérrez was a founding member of FAMILIA TQLM, established to advocate for LGBTQ immigrants often excluded in the immigration debate. The work of the organizations she represents, Familia QTLM and GetEQUAL, was echoed yesterday when 35 Congresspeople signed a letter sent to ICE demanding the agency release LGBTQ immigrants out of concern for their safety.
Up next in Part 2: Should the ruling class still be brought down?