https://www.facebook.com/events/257607774700353/permalink/258307887963675/
Come out and say no: · Hosted by New Haven AntiFascists and Dragonfly Climate Collective
..UPDATE…UPDATE..UPDATE..UPDATE..UPDATE..UPDATE..UPDATE..UPDATE..UPDATE..UPDATE..UPDATE..
*******************POSTED TODAY 3/20/17: Be at the green (Church St and Chapel St) 4:30 to 5:30 on Friday.******************
Looks like they've got their new route planned. Get ready to shut down the hate speech bus this Friday! Please share widely!
The bigots are on a tour with this bus. All we can say is bullshit. To read more about this bus see: This bus is on a road trip to convince you Transgender People are not real.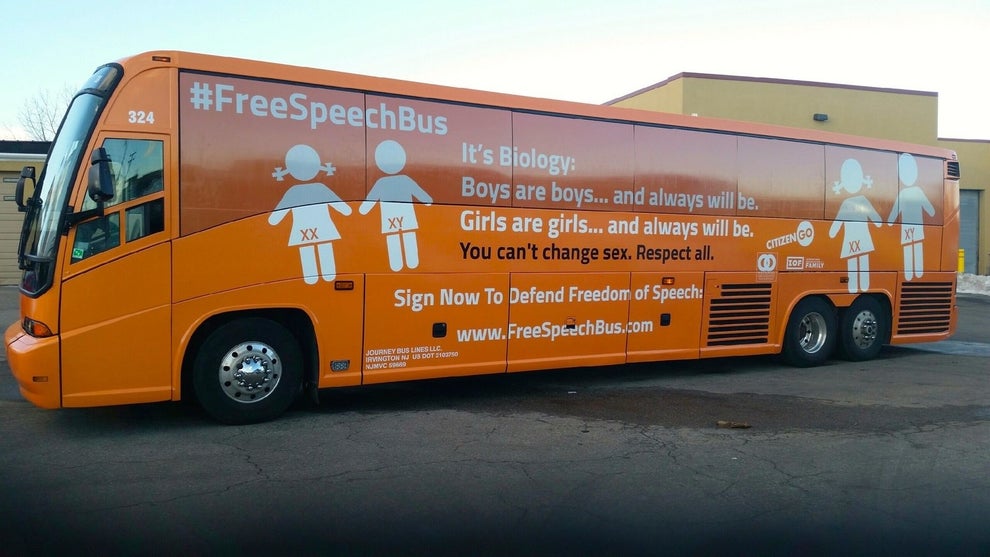 A bigoted group called Citizen Go is coming to New Haven on Saturday and possibly into Sunday, in a bus covered in transphobic messages. Let's shut this garbage down.
Time and location TBA, we will update any information ASAP.
We can not allow transphobic propaganda and representation in our city.
Looking for LGBTQ orgs to sign on or speak.
Glitter and "dancing" shoes encouraged.
March 24 – March 26
Mar 24 at 9 PM to Mar 26 at 9 AM
Yale University, New Haven
As more info becomes available as to day and time we will update.
Update:
New Haven AntiFascists shared a link.
This bus originated in Spain, funded by a small group of ultra-catholic transphobic and homophobic rich people. Hazte Oir, the Spanish version of the organization, are widely seen as a joke in that country.
A court in Madrid banned the HazteOir bus from the city until it changes its transphobic message, basically calling it a hate crime: "The Office of the Prosecutor argued in its brief that the campaign of the group was 'an incitement to hatred and discrimination against people who exercise their sexual identity in a different way than those of who identify as heterosexual,' according to what is stated in article 510.6 of the Penal Code."
The Navarra Parliament passed a resolution saying they will do anything they can to stop the bus from coming to their territory: "The approved declaration, submitted by UPN, Geroa Bai, EH Bildu, Podemos, PSN and I-EE, also asks the provincial government to take appropriate measures to 'try to prevent its arrival and the realization of this campaign in our territory, given that it goes against respect for diversity, and in particular sexual diversity and respect for the transgender community.'"
Fuck yeah Spain. Let's shut this down, New Haven style. Bring your glitter, bring your music, bring your drums and trumpets, bring your dancing shoes. We're gonna laugh and dance these transphobic bigots out of town.
Update: Bus with anti-transgender message is vandalized in NYC. GOOD!!! Go to HERE.
It may push the arrival of the bus forward a day to Sunday. Keep checking on the New Haven Anti=Fascist page for updates.
Here is a good article HERE.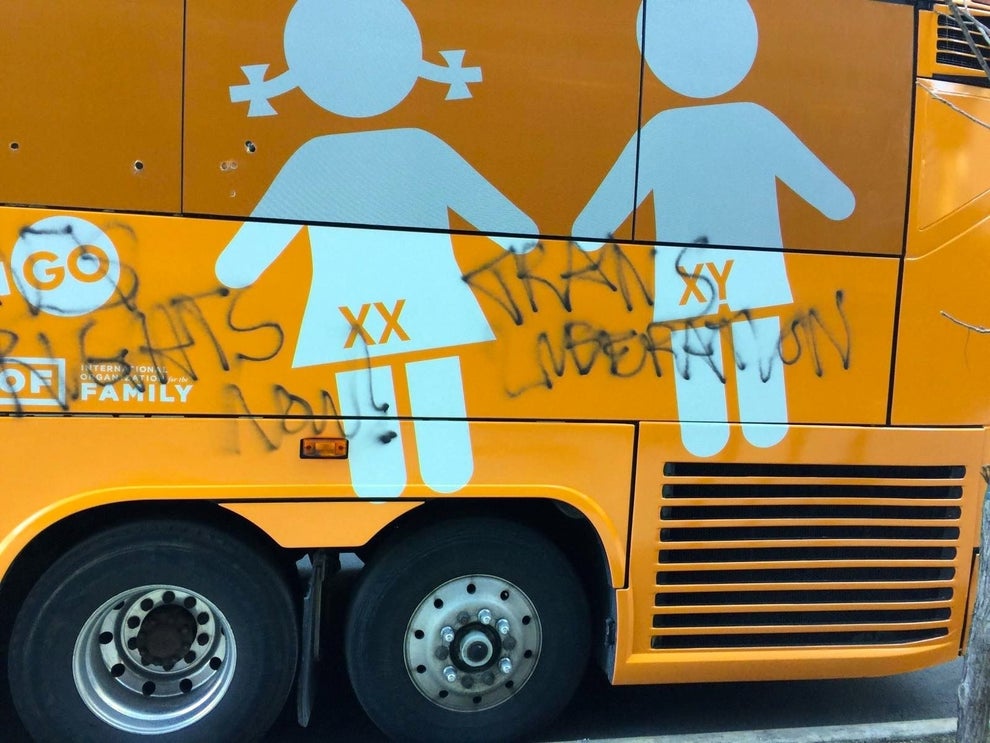 UPDATE:
Based on the information we received, they will in fact be in Rhode Island sat. Sunday they will be in new haven. If this is misinformation the likelihood of them arriving at a reasonable time Saturday is slim, due to some unexpected delays. We will plan for Sunday, and if they do show up Saturday we encourage autonomous disruptions to greet them.
Check back to the New Haven Anti-fascists group for more details.
Update:
Collectively we may have enough eyes to spot em. I-95
Accident or Traffic Jam? Report It!   We are looking for the bus, a big orange hateful bus.
wtnh.com
Banner to be used when the bus rolls into town.  What a wonderful job!
The Banner on the Green in New Haven