You know this happened to us last time when we were up here in Vermont. We were handed a two dollar bill in our change not once but twice. Strange we never see a two dollar bill in Connecticut.
 Well dear hearts if we were in Ecuador this would be our lucky day. A two dollar bill there is considered to be good luck. Here in the U.S and no one knows for sure why the two dollar bill is considered to be unlucky. Well its just plain old money to me and that's that. I got enough to worry about without some superstitious fools telling me the two dollar bill I got back in change is unlucky. But you know what I will do says dear old Olga, I'll keep it just in case. Stick it in my box and hope that some how some money will find its way to me and I promise with no fingers crossed that if it does I will then become a believer in the power of the Two Dollar Bill. ( 1 ) Not paying too much attention to the news Olga thought she heard that some man was robbed in his home and among the items taken was a stash of two dollar bills. Police wanted info from folks if they received any two dollar bills and where they got them from. Damn if I know snorted Olga, and does anyone really think that I would hand over my two dollar bill to the police. Nah I'm no fool the next thing you know they would be here in my hotel room asking all sorts of questions and then take my two dollar bill away and I would never get it back. I'll just keep it and be quiet. The very next day Bessy Marie reported that she also got a two dollar bill in her change. Somethings up at the store across the street.
Out the Train Window
Olga was so happy that in many spots along the route the train slowed down. Really down, a crawl. Better to look out the window and see what I can see. I love looking out the window as everything passes by. Sometimes I go and stand at the back of the train and look out the back door at everything receding down the track. Goodbye, see you on the way home.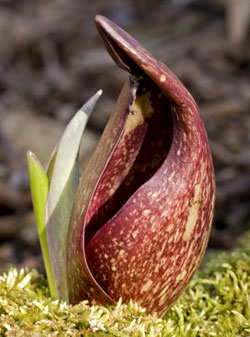 Skunk Cabbage
You know Skunk Cabbage always got a bum rap. Smelly stuff that grew around the sewer outlets in the town where I grew up. One time as children we pick a whole bunch and threw the leaves on old Mrs. Wilson's front porch. She was a nosy old crone, always yelling at the kids in the neighborhood, calling our parents for anything and just a all around mean lady. Well we were having none of that. I think someone's aunt told us to go pick some skunk cabbage and rub in and throw it all over old lady Wilsons porch. Well that is just what we did.
A few years later I found out that Skunk Cabbage, (yes it does smell like a skunk) was a healing plant and worked wonders for many a people. I first heard about the use of Skunk Cabbage from Mrs. Bates a member of the Wongnuk Tribe who lived in my home town. Her nephew and I would accompany her out to gather wild plants, nuts, roots, barks and berries in the woods. She told us, people take Skunk Cabbage for a variety of reasons bronchitis, asthma, cough, and whooping cough. It is also used for painful condition such as join and muscle pain, headache and toothache. It is used for treating infections such as worms, ringworm and scabies. Once when old grandfather Bates got bitten by a snake we used Skunk Cabbage and you know he lived to be we think 106. Mr. Bates loves to eat Skunk Cabbage and I cook up a batch of leaves for him. Many times some of the herbalists I know have used the tea for a blood purifier and to stop bleeding from surface wounds. Here is something that I bet not many folks know. The root of the Skunk Cabbage may live several hundred years or perhaps over a thousand as long as the soil that it grows in is undisturbed. Check out a plant if there are numerous leaves then you can bet the rhizome is old. This species has survived through millions of years since the Cretaceous period. ( 2 )
I never saw flowering skunk cabbage but here is a photo I found of what the flowers look like.
Fiddlehead Ferns
The ferns along the tracks were numerous and plentiful. Bessy Marie remarked, " Gee I wish I lived near here, I would have been down here in early spring getting some ferns when they were still all curled up bringing them home and cooking us up a batch. The ferns in the photo are not for eating. Too long along but what they were like out the train window. Here goes how I make them
Sautéed Fiddlehead Ferns
1 Tbsp. Himalayan salt, plus more to taste
1 pound fiddlehead ferns
2 tsp. Expeller pressed coconut oil
1 – 2 cloves garlic, thinly sliced or 1 small shallot, sliced (optional)
1/8 – 1/4 tsp. red pepper flakes (completely optional) (Not for me)
Preparation:
Trim and rinse fiddleheads, removing any brown ends or mushy parts.
In a large pot bring 2 quarts water to a boil. Add salt and fiddleheads. Cook 1 minute. Drain and rinse with cold water.
In a large frying pan, heat oil over medium-high heat. Add fiddleheads. Cook, stirring, until they start to brown, about 5 minutes.
Add garlic and red pepper flakes, if you like, and cook, stirring, until garlic is fragrant and just starting to color, about 1 minute. Salt to taste. Serve immediately.
From our King Suite Hotel Kitchenette
Bessy Marie was busy in our King Suite Kitchenette. She had purchased a package of Fiddlehead Ferns and green pea sprouts at the Health Food Co-op and this is what she did with them.
Steam the Fiddleheads for 8-10 mins. (funny in the microwave but can be done)
Let cool down. ( we did this in the morning and then refrigerated until dinner time)
Cut in half a nice amount of Pea sprouts
Dice cucumber, green pepper, scallions, and celery. (the salad bar at Shaws provided us with these ingredients.
Add Dill, Basil, parsley salt, pepper, a dash of Mrs. Dash
Make a lemon juice, olive oil and a touch of honey dressing. (hold until right before serving)
Toss together and enjoy.
This was served with some Lime Humus on gluten free crackers, slices of Gruyere cheese and sliced tomato.  A very elegant dinner when one is limited in a King Suite Kitchenette. Shaws Supermarket is right across the street from our hotel so each day we went and picked out things for dinner before leaving for the day.
My grandma the old Swamp Yankee that she was use to pickle Fiddle Heads so we would have a nice green vegetable in the winter. Down there in her cellar kitchen with big black stove cranking she canned all sort of vegetables, made jelly and jams. Want some head cheese? Right there in the crock. How about some dandelion wine? Got it sit down right there at the table and have a glass. Our cupboards and root cellar down there were full. Had to be as no telling what winter would bring for folks who didn't have all that much but had the world in everything that they had.
Wild Forget-me-nots.
Popping up everywhere were the patches of wild for-get-me-not. We spied a house with dandelions and for-get-me-nots all growing out front. We loved it that almost all the houses had dandelion patches . A story grew in Germany about the flower. A man and his lady were walking by the river, the man bent down to pick some of the wild blue flowers and fell in the river and was being swept away by the currents. He threw the small bouquet of flowers to his lady while yelling For-Get-Me-Not. Good story as any we suppose.
The whole plant is astringent and it has been used in herbal medicine as an effective remedy for several eye conditions, including conjunctivitis. It is also a handy first aid herb to help stop bleeds when applied externally, fresh or in powder (dried).  Forget Me Not flower essence enhances awareness of karmic connections in ones personal relationships and with those in the spiritual world. This flower remedy awakens the soul to higher levels of heart exchange. It creates a beautiful rainbow bridge between those that have departed us and for those we have yet to meet in this life.
Greetings from Burlington
Its not all that hard as long as you only want to spend the afternoon in Burlington to jump on the 12:02 commuter bus get there an hour later do what you want or need to do and then jump on the bus back home. Of course Bessy Marie if we take a bus later than 4:10 we will have to call a taxi in downtown Montpeiler to get back to the hotel as the last bus out to our place is 5:15. That is going to take some getting use to buses that stop so early in the evening. So no getting a little part time job on the 2nd shift to help out. You know the Green Mountain, the land of the back to the land, of Socialists, of farming of looking forward to a new day dawning is the same as everywhere else. Cars cars and more cars. One to a car drivers abound. One interesting fact about rush hour congestion in the Chittenden County area is this: The percent of people driving alone to work has remained steady at about 70 percent during the past five years. ( 3 ) We can't even begin to rally on about one to a car driving which we hate and hold in the utmost contemp.  So no one really cares. Yeah go after the big guys but remember we all have a role to play in the destruction of the planet earth. Noting in our opinion except war is as ugly as rush hour. "Hey," said Bessy Marie, "add to that the alarm clock ringing at a ungodly hour." We hate it. May we say it is an abomination if there ever is such a thing. Really rude just as rude as littering.
So we get up to Burlington and walk down Church Street, circus city that street is with crowds out to lunch in outdoor cafes, singers who can't sing worth shit out there on the pavement singing anyway disturbing the peace is more like it, more cafes that last year, everyone likes to eat, maybe it is the new hobby we know it is ours as most of our vacations are planned around where we would like to eat.  We are very careful now due to a special diet for old gals like us. So we walked and walked past some of our favorite stores, crossed over Main and to the quiet part of Church Street. We were heading to Istanbul Keabab House. Consulting the menu before leaving we both agreed that the food sounded delicious and our instinct was right on the money. We sat outside and enjoyed the peacefulness of lower Church Street on a warm spring day.
Istanbul Kebab House
175 Church Street, Burlington Vt.
We began our fine lunch with a Turkish Meze Platter.  Both agreeing that we should have ordered the larger model and next time we will.  It comes with hummus, babaganoush, Turkish salsa, stuffed grape leaves, and lavash bread for dipping. The stuffed grape leaves were to die for and we should have taken some home for dinner that night. For lunch we dined on, Chicken Shish Kebab, Beef Shish Kebab, Turkish rice, ( 4) salad, cold red shredded beets and to top it off Turkish Almond Pudding. Very clean fresh and tasty food. Everything was flavored to perfection. As the sun moved one of the men who ran the restaurant came outside and moved the umbrellas so all of the luncheon guest would have a nice shaded area to eat their meal as the afternoon temps had climbed to over 90 and the sun shown hot.. A very touching thing to do and makes me want to go back and eat there every week.
Radical Organizing
We probably shouldn't call it politics but a group who is foremost out there in defense of the people, The Workers Defense Guard of Vermont work out of Burlington. We were wondering where any activity of this type was happening. Just a few people who we talked to a couple of years back at the Peace and Justice Center who when asked if there was a anti-war movement in Burlington said no, we are mostly into education here. We always like to use a line such as that back when Obama was president to gauge where folks were at. Of course we couldn't expect to find something in a day or two but at least we had hoped to find a poster still up, a leaflet on the street something to tell us things were moving in VT. When we were in Montpelier we did see leaflets up for a letter writing campaign to political prisoners at a local church. The leaflet had all the visuals of a young anarchist group. The Vermont Workers Center on N. Winooski Ave works hard for the people and has this to say in their mission statement: "The Vermont Workers' Center is a democratic, member-run organization dedicated to organizing for the human rights of the people in Vermont. We seek an economically just and democratic Vermont in which all residents can meet their human needs and enjoy their human rights, including dignified work, universal healthcare, housing, education, childcare, transportation and a healthy environment. We work to build a democratic, diverse movement of people affected by injustice that is locally focused, coordinated statewide, and connected nationally. We work with organized labor to strengthen workers' rights, and with other allied organizations in support of other human rights. We are committed to taking action on the full range of issues of concern to people most impacted by economic and social injustice, and to building strategic alliances nationally and internationally." Sounds like a great group to have in one's state.
No Car, Hey never been a problem with us.
We wanted to go to Burlington one day and noticed that for $2.00 we could take a comuter bus from downtown Montpeiler and get to Burlington in time for lunch and be home in time for dinner. Not bad at all. When one doesn't drive a car, our small contribution to helping the planet, a person has to know all about bus systems, cabs and other means of transportation. We know we must live where the buses run or we can walk to our destination with no problems. Yeah many times we have to be in before dark but know that if it really something that we want to do we want to do we will find a way. You start checking off the importance of what you want to do, will there be others there who can take your place. How much do you really care about whatever it is you want to do. Do you really want to do it or is it just a passing fancy? Most of the time it is a passing fancy. One gets selective as one gets older and the importance of most events seem to dimmer. How many times have we been there and done that? Didn't we hear that same plea 40 years ago? The wheel is still a wheel even when it is re-invented. The left and liberals must love that shit of fighting the same old battles over and over. That is how it is with reform. We have to change the system or we will see no real change. But who wants to listen to two old crones? So we will live downtown, walk to the store, walk to the laundry, walk to the pharmacy, walk to the movies and only take a bus if we need to go out of town for something or for a side trip to Burlington or Barre and you can bet any chance we get we will continue to speak out against this dirty rotten system in all of its ill manners, shapes and forms.
? Whats it like to eat lunch surrounded by a bunch of state legislators? Well let me start with a small group in line near the entrance to the Capitol's restaurant blocking the entrance whild waiting for whatever it was they were waiting for. Hey, excuse me, there is a cooler that you all are blocking and we would like to get ourselves a drink What a mad house. Push and shove, you gotta get in the right line for the right station in a very small crowded room. Where the grill person wasn't really a grill person who had one hamburger on the grill and a line of people waiting. Can't she do more than one thing at a time Bessy Marie wondered aloud. Maybe the wheels of government turns very slow in Vermont and the fry cook has adopted this practice. Somehow Olga got in the hot dog, beans, potato salad and sauerkraut line. Ah shucks just what I needed All American hot dogs and beans come get your all American hot dogs and beans. Without even really thinking Olga got a plate full. Let me outta here, turned and said to Bessy Marie, "this was your idea not mine." Never have I seen such a crazy place. Another shove by a old white hair fuddy duddy, Man shove me again and I will take you out and your corn muffin along with you. If nothing else this shit will convince me to be an anarchist until the day I die. $10.51 for this lousy lunch. I don't even eat hot dogs, beans, sauerkraut or potato salad. No attempt was made with presentation, just plop, plop, plop. Seeing how these folks act around plates of food really is something.
We took a seat up on a little high rise area where we had a good view of everyone in the dining room. Oh there goes pig farmer McGee, and there is little Missy Muffet without her tuffet, that one there looks rather well hung would like to get him in a dark room or for a bend over rover. "The ones with the white shirts and hair to match are the big shots," explained Bessy Marie. "Now how in the world do you know that?" asked Olga. "Cuz they look like big shots who have been around for quite a long time." How we laughed and laughed seeing those who make the rules for everyone else in their feeding grounds I wonder if they are going back to work? They sure will be letting out gas bombs all afternoon with this food. Let me at their bowl full of chili willy. (it was very tasty)
Of course Olga said, One must hand it to these folks. They were able to pass a Marijuana legalization bill. The bill — the first marijuana legalization measure in the country to be passed by a state legislature rather than a voter referendum — would have taken effect July 2018 had the governor not intervened before midnight tonight. The governor vetoed the bill and sent it back, says it needs work citing it lacked adequate safety measures. So good for them even if they are noisy, pushy, and like to eat hot dogs and beans I guess it doesn't matter if one has no manners as long as they are right in passing legislation of this kind. We support it.
A little story from Olga–from far away California.
"Let me tell you al little story here," said Olga. "Many years ago I live up in the mountains of California in a town with 372 people. ( I notice now that the population is 295) Next door to me lived a group of "moved out of San Francisco" Hell's Angels. Very nice folks, nice to me and I was nice to them. Well JR the leader of the crew didn't know all that much about grass. Couldn't really tell if it was all that good or not but if he was buying a pound well one wanted to make sure. "Well," I said to JR "Let me at the stuff open up that bag let me see. One sniff and I knew. If it wasn't any good down the mountain the dealer was sent packing. You know fucker don't try to rip us off, not good, nope not good. If it was good stuff okay man we are in business. So that is how I got my grass to smoke. By being the tester. One time one small sniff and said, Now JR be careful with this its witches pot. Well he went and bought it anyway ended up freaking out gave me 1/2 pound and we sold the rest. Best job I ever had." I miss those days we were all so free I never found anything wrong with the Hell's Angels I even entertained a few back in the day when a bunch came up for a family reunion at JR's. Of course park in my drive way. Come on in use the bathroom, out in the connector of the barn there are a couple of rooms where the farm hands use to stay. Anyone want to sleep there its nice, clean and cozy. (Donna JR's wife cleaned the rooms and made them up nice. Guess they will have to use the outhouse. There was one attached to the living quarters, out the back door to the left) Pitch a tent in my back yard sure. Anyone who wants to. The large field between our houses was mowed and raked. A fire pit was built. So we got it on those 4 days in August with the cops only showing up once to tell us to calm down a bit as it was getting later. JR. sang Good Night Irene and everyone went to cars, campers, trailers and the barn. Hey, I got to live here so let's behave ourselves. Would I like to be young again, you bet. Would I love to spend the night again with well hung Lou. Shit yes, miss that man still.
Notes:
(1) Why are Ecuadoreans obsessed with the $2.00 bill?
( 2 ) Fond memories of Mrs. Bessie Bates. Who tried to teach Freddie and I the mysteries and healing properties of the plants. We would walk for miles down the railroad tracks and she knew right where to turn to go into the woods and find what she was looking for. Freddie and I pulled the wagon that carried baskets and bags that would soon be filled with our gatherings of the day. My favorite part was right before we started back home we would sit and have our lunch and Mrs. Bates would tell us stories about the plants that we picked that day, how she was going to prepare each plant and what the plant was good for. This was my introduction to the life of healing plants.
(  3 ) Vt. Trendlines: Vermont's Traffic Congestion   This article contains local transportation organization and local transportation options.
( 4 ) Bessy Marie said, "As soon as I get home I will make some of this Turkish Rice. It is the most tasty rice that I have ever eaten. Here is a recipe in case anyone else would like to try their hand at making it. You will not be disappointed.
A quick and easy recipe for Turkish rice (şehriyeli pilav) which makes a tasty side serving for many Turkish dishes.
Ingredients
1 cup of rice (we use a standard tea/coffee mug)
2 tbsp şehriye (orzo or vermicelli)
1 tbsp butter
2 cups hot water or stock
Instructions
Heat your butter in a deep saucepan over a low heat.
Now add your şehriye (orzo) to the pan and stir around for a few minutes until you see it start to change colour.
As soon as you notice the orzo start to go brown, add your cup of rice and continue to stir. Remember to keep the pan over a low heat and keep stirring, otherwise your rice and orzo will burn.
After 3-4 minutes, add the water or stock.
There will be a big sizzle and the liquid will bubble up. Turn up the heat and bring the rice to the boil, fully.
Once the rice is boiling, give it a couple of stirs around, put a lid on the pan, leaving a small gap, and reduce the heat to medium-low.
Leave your rice to simmer for 8-10 minutes until the water or stock has absorbed.
Now remove from the heat, put the lid firmly on the pan and leave your Turkish rice to stand for 5 minutes.
After 5 minutes, remove the lid and fork through your rice.
If you find the butter too rich in your Turkish rice, we sometimes just use a glug of olive oil. This is not traditional and does change the flavour slightly but it makes or an occasional, tasty variation.
Whatever size cup you use for your rice, make sure you use the same for your water or stock.
Calories are approximate and are calculated on using butter and water as opposed to stock.
Nutrition Information
Serving size: 1 Calories: 122