Archive for the 'Let's eat!!' Category
You know this happened to us last time when we were up here in Vermont. We were handed a two dollar bill in our change not once but twice. Strange we never see a two dollar bill in Connecticut.
 Well dear hearts if we were in Ecuador this would be our lucky day. A two dollar bill there is considered to be good luck. Here in the U.S and no one knows for sure why the two dollar bill is considered to be unlucky. Well its just plain old money to me and that's that. I got enough to worry about without some superstitious fools telling me the two dollar bill I got back in change is unlucky. But you know what I will do says dear old Olga, I'll keep it just in case. Stick it in my box and hope that some how some money will find its way to me and I promise with no fingers crossed that if it does I will then become a believer in the power of the Two Dollar Bill. ( 1 ) Not paying too much attention to the news Olga thought she heard that some man was robbed in his home and among the items taken was a stash of two dollar bills. Police wanted info from folks if they received any two dollar bills and where they got them from. Damn if I know snorted Olga, and does anyone really think that I would hand over my two dollar bill to the police. Nah I'm no fool the next thing you know they would be here in my hotel room asking all sorts of questions and then take my two dollar bill away and I would never get it back. I'll just keep it and be quiet. The very next day Bessy Marie reported that she also got a two dollar bill in her change. Somethings up at the store across the street.
Out the Train Window
Olga was so happy that in many spots along the route the train slowed down. Really down, a crawl. Better to look out the window and see what I can see. I love looking out the window as everything passes by. Sometimes I go and stand at the back of the train and look out the back door at everything receding down the track. Goodbye, see you on the way home.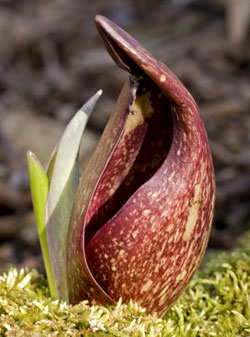 Skunk Cabbage
You know Skunk Cabbage always got a bum rap. Smelly stuff that grew around the sewer outlets in the town where I grew up. One time as children we pick a whole bunch and threw the leaves on old Mrs. Wilson's front porch. She was a nosy old crone, always yelling at the kids in the neighborhood, calling our parents for anything and just a all around mean lady. Well we were having none of that. I think someone's aunt told us to go pick some skunk cabbage and rub in and throw it all over old lady Wilsons porch. Well that is just what we did.
A few years later I found out that Skunk Cabbage, (yes it does smell like a skunk) was a healing plant and worked wonders for many a people. I first heard about the use of Skunk Cabbage from Mrs. Bates a member of the Wongnuk Tribe who lived in my home town. Her nephew and I would accompany her out to gather wild plants, nuts, roots, barks and berries in the woods. She told us, people take Skunk Cabbage for a variety of reasons bronchitis, asthma, cough, and whooping cough. It is also used for painful condition such as join and muscle pain, headache and toothache. It is used for treating infections such as worms, ringworm and scabies. Once when old grandfather Bates got bitten by a snake we used Skunk Cabbage and you know he lived to be we think 106. Mr. Bates loves to eat Skunk Cabbage and I cook up a batch of leaves for him. Many times some of the herbalists I know have used the tea for a blood purifier and to stop bleeding from surface wounds. Here is something that I bet not many folks know. The root of the Skunk Cabbage may live several hundred years or perhaps over a thousand as long as the soil that it grows in is undisturbed. Check out a plant if there are numerous leaves then you can bet the rhizome is old. This species has survived through millions of years since the Cretaceous period. ( 2 )
I never saw flowering skunk cabbage but here is a photo I found of what the flowers look like.
Fiddlehead Ferns (more…)